A lot of cryptogold can no longer be obtained through a home computer. This method is slowly fading away. ASICs are more powerful and reliable mining equipment. They use dozens of algorithms for obtaining different cryptocurrencies as efficiently and quickly as possible. We present you Whatsminer M30s 92 TH/s for Bitcoin generation.
Technical data
Asic Whatsminer M30s 92TH/s is designed for Bitcoin mining using SHA-256 algorithm. Released by MicroBT in 2020. A similar ASIC of 2019, Whatsminer M21S, loses to the new model in terms of a hashrate of 39.13%.
The aluminum case prevents mechanical damage to the device. Two fans regulate the timely cooling of the ASIC in the operating temperature range.
The built-in power supply is an absolute advantage of Asic Whatsminer M30s 92TH/s.
Specifications:
Algorithm: SHA-256

Performance: 92 TH/s

Power: 3496 W

Operating temperature: -5 °C to +35 °C

Weight: 12.5 kg

Cryptocurrency: Bitcoin
Use the profitability calculator on this page to define the payback.
How to buy Asic Whatsminer M30s 92 TH/s at Promminer
You can place an order for any ASIC model with Promminer managers. You can also place an online order through our website. Leave your details in the form below to consult on the price or terms and conditions of delivery.
You can pay for your order in several payment methods. You can also check the availability of a particular type of payment with our managers.
We purchase mining equipment directly from manufacturers. Therefore, we offer you the most favorable price of the selected device.
You get high-quality licensed equipment with a guarantee. We have our own service center, which will promptly carry out warranty service. We also repair ASICs purchased from other suppliers.
Оформить заказ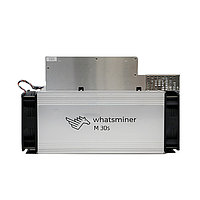 Оформить заказ
Менеджеры компании с радостью ответят на все ваши вопросы и подготовят персональное коммерческое предложение.