The Chinese company Canaan is one of the Big Three manufacturers of Bitcoin mining equipment.
Avalonminer A1246 90 TH/S is focused on mining both Bitcoin and Bitcoin Cash. It works on the SHA-256 algorithm.
Technical data
The ASIC is equipped with a power supply. The case is made of aluminum. It is designed to provide shock resistance and improve heat dissipation. Four powerful fans keep the device cool.
The Avalonminer A1246 has a high profitability. Due to the improved technical characteristics, energy efficiency has increased by 37% compared to the AvalonMiner 1146 model: from 52 J/terahesh to 38 J/terahesh.
The Avalonminer A1246 offers a hashrate of 90 TH/S with a power consumption of 3420 W.
Specifications:
Algorithm: SHA-256

Performance: 90 TH/S

Weight: 12.8 kg

Power consumption: 3420 W

Energy efficiency: 38 J/TH

Working temperature: 0-35 ° C

Noise level: 75 dB

Size: 331 x 195 x 292

Fans: 4 pieces

Cryptocurrencies: BTC, BCH
You can calculate the payback with the profitability calculator on this page.
Buy ASIC at Promminer
Buy ASICs at low prices. We guarantee the high quality of our products as we work with all mining equipment manufacturers directly. We have the most comfortable payment conditions. We also deliver miners all over the world.
The ASIC Avalonminer A1246 is covered by a warranty. We conduct a thorough inspection of all devices to make sure they are ready for work. If you have any questions while using the ASIC, please contact our specialists. They will advise you on setting up and maintaining your device.
Not decided what ASIC to choose? Get a free consultation of our specialists. They will help you to find the best option. We will select a device that meets your needs in terms of price and technical characteristics.
Оформить заказ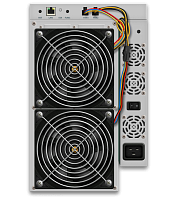 Оформить заказ
Менеджеры компании с радостью ответят на все ваши вопросы и подготовят персональное коммерческое предложение.